Your website can create a bridge between your business and clients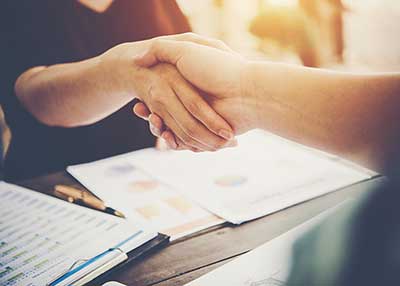 Web designing has for long been associate with marketing and advertising of products and services. Due to this many other factors of having a great website get overlooked.
Recently a client took me on a tour of his business and we reviewed opportunities for where an online presence can be used to create better interactions with his clients. As we worked our way around his product development process we noted the touch points where we could take an interaction with the client online.
Some of these touch points we identified where client interaction could be taken online were
a. Placing an enquiry through the site rather than over the mail.

b. Getting a quote online through the website

c. Approving and triggering the order

d. Step by step notifications to clients as the process started.

e. Complaint/troubleshooting Ticketing

f. Completion and delivery of products notifications

g. Feedback on quality and satisfaction.

h. Repeat ordering
The amount of time and efficiency benefits are phenomenal.
My client travels very often and relies on telephonic updates on all the work going on in his factory. When he needs reports, his team scrambles to put togther a coherent document from various sources. Same happens when a client asks for some information.
However if the website had a system where all the relevant information is entered and collected as a matter of fact, it eliminates tons of confusion and issues, speeds up promoter and client reporting and introduces huge efficiencies.
You don't need a full fledged ERP, just a tracking and reporting system
Many times when we mention something such as this, the client gets scared that we might be trying to saddle him with a huge ERP installation. Usually an ERP system has more to do with internal process efficiencies more than customer facing efficiencies.
What we are talking here is from a purely customer specific point of view. Nowadays the customer expects and demands a very high level of information flow and will avoid doing business with any company that does not match their requirements.
You can clean your internal systems later, first get your customer facing systems streamlined.
I often hear clients talk about improving thier internal systems first and then addressing thier customer facing systems. This might be wrong for two reasons, first, redesigning an internal system might be a fairly lengthy process compared to revamping the customer facing process and secondly, your customer does not care a damn about internal processes, they only see what comes to them. This is a case of perception is more important than reality.
By its very nature, online systems are more customer friendly and a perfect bridge between your business and the customer.
So here is the heart of my point. Customers are online more often than not. They will have a set number of websites they will visit for business and for personal reasons. If your website provides easily accessibility to check thier orders and interact with you, its more likely they will use it rather than call you or email you.
Everyone loves structure and order, most of all clients do. If given a choice between doing business with a company that has a cool online system for checking order progress versus an ad hoc email/telephone system, I would chose the former. Wouldn't you?
No matter what your business is. No matter what industry. You are eligible to create an online customer service system connected to your website. The benefits will speak for themselves in improved efficiency and client satisfaction ratings.